A Rider's Ultimate Challenge
It has been an exciting week for horse people all around the world as the FEI World Equestrian Games came to a close on September 7th with the jumping and driving events. Fans filled the stands and cheered on their favourite athletes from their favourite disciplines.
The last day of show jumping was no exception either...
The competition narrowed down to only the top four on the last day; Patrice Delaveau (France), Beezie Madden (USA), Rolf-Goran Bengtsson (Sweden) and Jeroen Dubbeldam (Netherlands). With a 8 fence course and a time allowed of 64 seconds, the athletes and their horses entered the ring with the gold medal in mind.
Once they completed the course on their horses, they then had to ride the course another three times riding each other's horses. With only 3 minutes to get to know each rival's horse before entering the ring, the four athletes were put to the test.
The course designer, Frederic Cottier, designed the course so that there would be no need for a jump-off. He made sure to create many areas within the 8 fence course where mistakes could be made. With 64 seconds allowed, Frederic Cottier made sure that time was not on their side also. He succeeded with his plan as only 2 riders kept all the fences up in all four rounds; Patrice Delaveau and Jeroen Dubbeldam. Delaveau, however, did not go clear as he collected a time fault.
This meant that Jeroen Dubbeldam brought home the gold, Patrice Delaveau the silver and Beezie Madden the bronze.
I've included the FEI highlights video for you all to watch. You can skip to 2:00 to view the final four competition.
Video:
https://www.youtube.com/watch?v=n8Z4eahSxUc&list=UUb3uedNKWKG7gGDYQJ1VsWg
It's exciting to see our favourite athletes competing against each other, but I think it's even more exciting to see them compete on each other's horses. When they're training as much as they are, they've built a relationship and an understanding with their horses. They know their strong and weak points. So when they go to a competition, they can plan out how they are going to approach each fence to hopefully go clear. When you've never worked with a horse and only have 3 minutes to get to know him, you're more likely to make mistakes. You might not know that they tend to shy away from flower boxes or that they need more encouragement when approaching an oxer. These four great riders were challenged to see how great they really are.
I've always enjoyed riding new horses to improve myself as a rider. It's both fun and challenging. Each horse will teach you something different. I remember my riding instructor from years ago saying, "Just because you can ride one horse great doesn't mean you're a great rider." These four riders proved that they are great riders by how well they rode one another's horses.
Congratulations to all 971 athletes from 75 different nations who participated at the FEI World Equestrian Games in Normandy. It was great to watch all of the top horse people in 8 disciplines compete against each other. I cannot wait for the next games in Bromont, Quebec in 2018.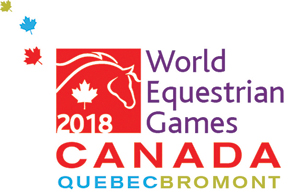 Picture from:
http://nbea.ca/Home/2018-World-Equestrian-Games-Come-to-Canada
If you would like to learn more about the final four competition, you can click the links to the FEI news page or to the Horsetalk.co.nz article. You can also click the link to the Normandy 2014 website to get caught up on all of your other favourite disciplines.
Until next time, happy riding!